This option is available in 'Personal Details'. You need to click 'Add New Person'. Once you save, the user receives an automatic email with the login procedure for the HR system. These users get 'Employee role' by default. Employees can view their attendance, leave records, submit attendance, etc. Further to that, you can change role and give more permissions from the user permission page.

You can reset the password from the option 'Forgot Password' available on the login panel.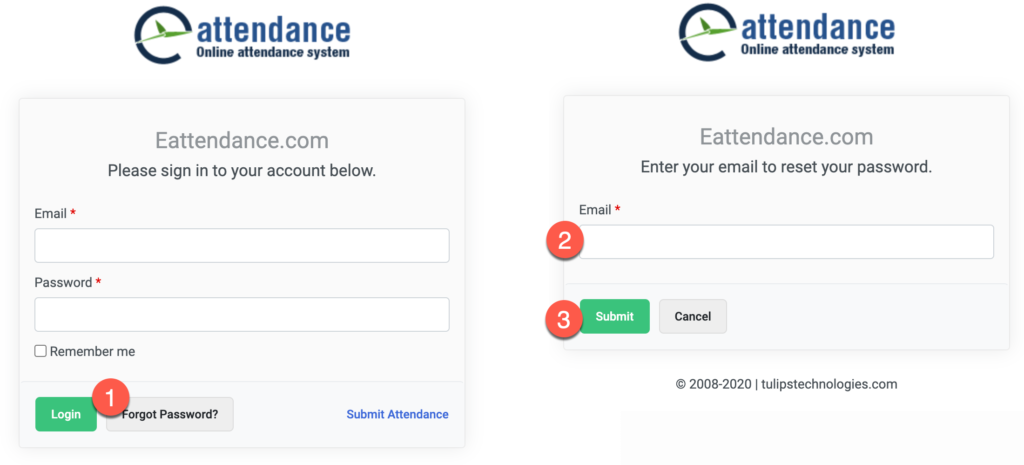 When your Cloud HR solution is set, we send you an administrator account. Once you are set as an administrator, you will have permission to assign roles for other employees. Further this admin can make multiple admin too. The option to change a user to an admin is available in User permission of General Settings menu.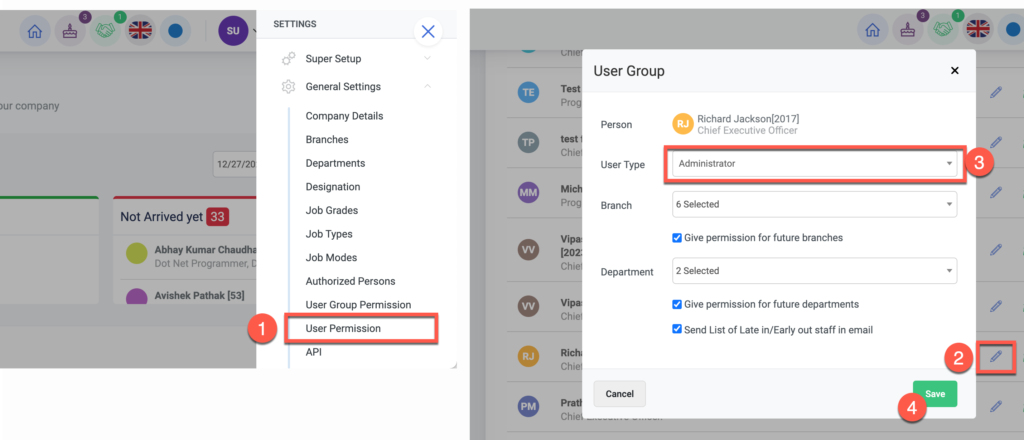 Go to Leave & Visit/ Leave Summary.
Select Year and Leave Name (Choose only one leave. Transfer button will appear if only one leave is chosen.).
View the report.
Click on transfer icon (Transfer button will be visible only if preceding attendance year is set.).

5. On pop up, click 'Transfer Leave Balance'.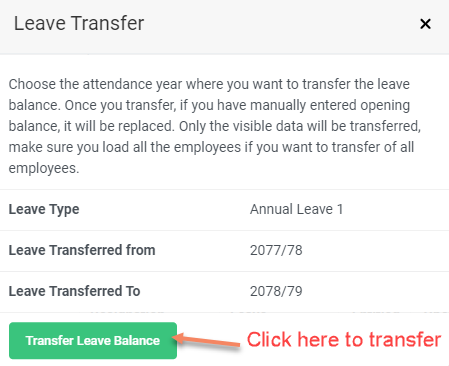 6. Go to Posting/Opening Leave.
7. View the transferred leave.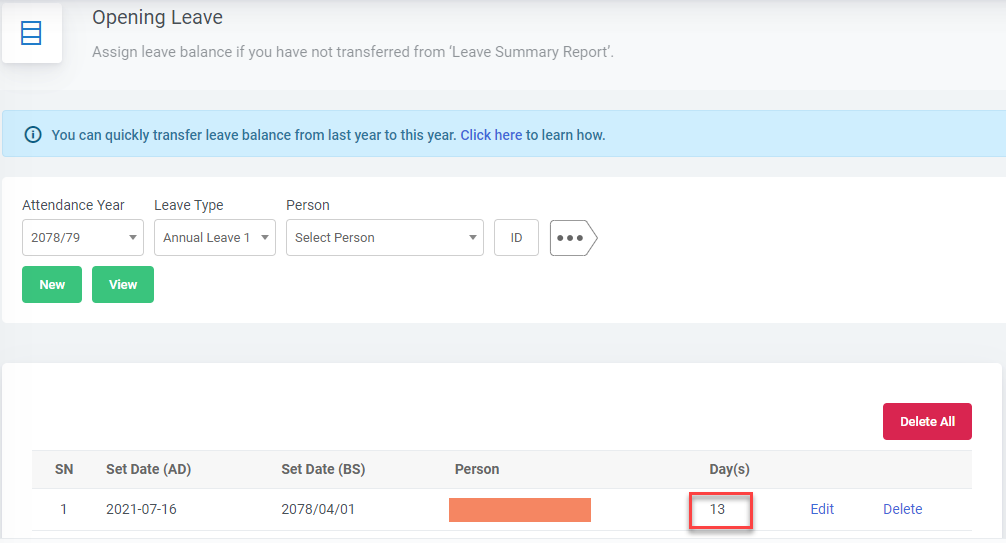 Note:  If you re-transfer again, the transferred leave balance will be updated. 
Email address is compulsory in order to save Personal Details of an employee. It cannot be saved if the mandatory fields are not filled up. Some users might not have an email address. In that case, you can keep the email address as employeename@eattendance.com. For e.g.: john@eattendance.com.



Department Head or Branch Manager is benefited with separate login authorized to view all the reports of his/her concerned department or branch only. For this login, the admin needs to give rights to concerned person from Users of Setup menu. Then, the system automatically defines the rights of concerned person. Also, the admin can define more permissions.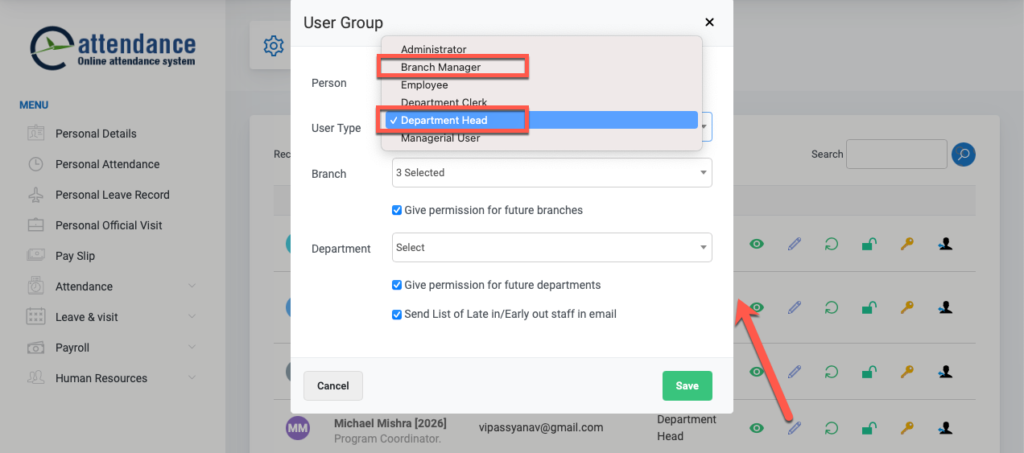 Department Head/Branch Manager login and Admin login are separate logins. The difference is that admin manages the whole system. Whereas Department Head/Branch Manager has access to manage concerned department or Branch only. If a single ID is assigned with both, admin login would be better. For all the reports, there is an option to choose the department and branch which facilitate to view the required report only.
You can find the list of users with check box for Approve or Recommend in Authorized Persons option available in General Settings. Just check the box for the one who is authorized according to Company policy. Then, their name will be displayed in drop down accordingly in the leave and other applications of users and posting of admin.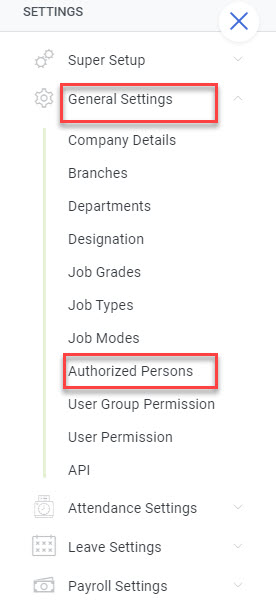 Until the leave is approved, the employee can also delete the leave from Leave Application menu. If the leave is already approved, only admin is authorized to edit or delete the leave which has been posted by mistake. The option to add, edit or delete is available in Leave posting.


There are two conditions for the users who leave the organization:
You cannot delete users, whose attendance has already been recorded in software. The system would not allow deleting that user. You can just change the status of that user from 'working' to 'not working' status. You can do it from edit option available in Personal Details. Once you change the status, that user will be hidden from all of the reports like Personal Attendance Report, Daily Attendance Report and Monthly Attendance Report and so on. This is advantageous as it let you to keep the personal record of employee which might be useful in future for look on past reports. Like in personal detail, that user displays in Users also (Setup > Users).
Users whose attendance has not been recorded in the software can be deleted directly. Such deleted user will not be displayed in any of the reports.


The system works in a process. Once the employee shows card or punch finger in the device, the attendance goes to local database server. Then, local database server sends attendance logs to web server by internet. In this way, the attendance is seen in software. This process generally takes 10 minutes to import the data from device to software. So, the user might be confused with the absent report though they had done attendance in device.
The admin must maintain Entitled Leave and Opening Leave (Leave & Visit > Entitled leave, Opening leave) for all of the employees. Otherwise, the system won't allow the user to apply leave if you have set to check leave balance when applying leave. Similarly, if the employee has no leave balance, the system won't again let to apply leave. The one who is applying for the leave must be sure for the entitled leave or remaining leave that can be applied. The employees can can know his/her leave balance from Leave Record.
If you are a user, you cannot change the date of approved leave. But, if you are an admin, then you can change it. The method to do is:
Go to Leave & Visit> Leave posting > Search or Edit Leave
Select the Conditions > then, click on View
After then, the user can change the desired date

Generally, this message come when the device transaction memory is full. In this case, you need to clear the log of attendance. Before deleting the att log in device, you must be sure whether the complete data has been imported to the software or not. Once you are confirmed, then, you can delete the attendance log.
Steps to do:
Go to Super Setup > System Options > Adv options > Del Attlogs

This happens when some error has come in the system or during our updates. If it is not corrected automatically within sometime, please contact our support team. 
No it is not possible to hide from the reports. The system tracks who has edited the record and shows that in reports.
After selecting Branch, you noticed there is no bank listed. 

Then follow these steps: 
Go to Payroll Settings > Bank accounts
List of Bank names will show.

Select bank from the list and click Edit to open a edit form.

Select the Company Branch you want.
Click Save.
Now, bank will be shown in selected branch.